DELTA POLICE PIPE BAND - Delta, British Columbia, Canada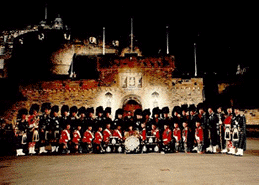 The Delta Police Pipe Band was formed in 1971 by members of the now 135 person police department. Since the Band's inception it has grown to it's present strength of 25 pipers and 16 drummers under the direction of Pipe Major Bruce TOPP and Drum Major Bob BURNS.

The municipality of Delta is geographically located on the south west coast of British Columbia, Canada. It is bounded by the United States of America to the south and the city of Vancouver to the north. Delta, with a fishing, farming, light industry and commuter community of 100,000 people, is well situated for present and future developments.

The Pipe Band uniform consists of full highland dress with feather bonnets. This is complemented by the predominately green and blue coloured, Ancient Smith tartan, worn in honour of the Band's co-founder, the late Chief Constable M.W. Smith.


The Delta Police Pipe Band has been recognized both nationally and internationally for their smart appearance, military bearing and crowd pleasing musical presentations. In addition to police and local community involvement, the award winning band participates in various functions and parades throughout the year.

Some of the more memorable events the Band has been associated with were the 1983 performance for Her Majesty, Queen Elizabeth II, at Vancouver, British Columbia and the 1986 opening of the Vancouver World Exposition by Prince Charles and Princess Diana. It was the premier Band in the 1987 Niagara Falls Police/Military Tattoo; in 1987 they participated in a Tourism Canada television presentation and in 1989 and 1991 they competed in the Hawaiian Highland Games. The Delta Police Pipe Band has performed at the Whidbey Island Naval Air Show and more recently at the Salem, Oregon Tattoo.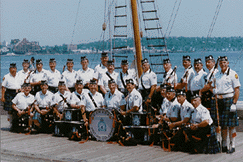 The highlight, to date, of the Band's performances was their 1994 appearance as the Canadian Band at the 1994 Edinburgh Military Tattoo in Scotland. The Band was also the feature band at the 1995 Monterey Highland Games and the 1996 Pleasanton Highland Games in California. In July 1997, the Delta Police Pipe Band performed at the Nova Scotia International Tattoo in Halifax. In between performances at the Tattoo, the Band also performed at numerous venues throughout the City of Halifax, in addition to representing Delta at the Canada Day celebrations in Westville, N.S. and festivities in Pictou, N.S.

To obtain more information on the Band or to inquire about performances, please contact:
Delta Police Pipe Band
c/o Delta Municipal Police Department
4455 Clarence Taylor Crescent
Delta, British Columbia
CANADA

Ph: (604) 946-4411
Fax: (604) 946-3729

email: pband@max-net.com


Listen to the Delta Pipe Band